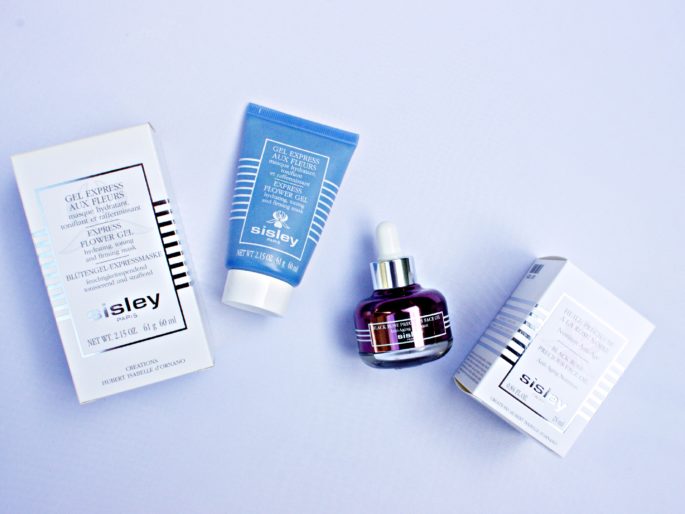 I have been testing these products for a while now so I wanted to share my thoughts with you.  My love and devotion to Sisley goes a long way. Sisley's line is pricey but it does deliver with regards to skin care and make up. Everything I purchase from this brand is nothing but amazing.
Now, onto the Sisley Flower Gel Mask and Black Rose Precious Face Oil.  I used both religiously this winter season in California and they also came with me on a few trips to cooler places like Europe and New York these past couple of months.
Lets start with the mask. The key ingredients as described on Sisley's website are: White Lily which hydrates and softens; sesame, which hydrates, protects, and regenerates; rose, which freshens, softens and acts as an astringent; and iris, which softens and tones.  As per Sisley's mask use recommendation, it is meant to be applied and wiped off after 10-15 min. However, I usually put a thin layer all over my face before going to sleep and leave it on whole night waking up to a refreshed, nourished and firmer looking skin. I also use this mask for my pampering session before heading out or as part of my weekly skincare routine. The 2.15 oz tube tends to last me a close to a year, so it cuts the overall cost per use significantly, although on the surface it looks like quite an expensive product.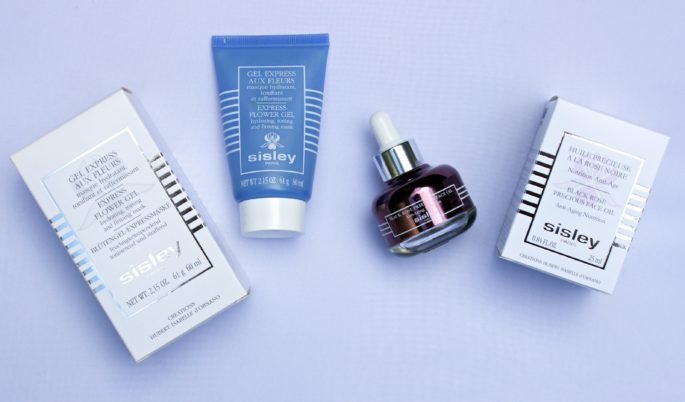 As for the oil, which was my latest Sisley skincare acquisition, it became my holy grail product and savior this winter season. As I mentioned before, being a Retin-A user I always try to rebalance the strong effect of the cream by introducing soothing and nourishing products into my skincare regimen. Unfortunately, it's not always that easy having a very sensitive combination and acne prone type of skin.  Any product containing some type of oil in it would break me out or clog my pores, so I generally stay away from those types of products. When I first was introduced to this oil and given a sample of it, I pretty much already expected that it would fall into my no-go category of products. Nonetheless, I still gave it a try due to it being a new Sisley product, which in my book are known for the quality and great results they deliver.
The description of the key ingredients and benefits they provide as taken from Sisley's website state:
Plum oil (rich in omega 6): strengthens the barrier function and brings comfort and suppleness to the skin

Camelina oil (rich in omega 3 and 6): nourishes, soothes and preserves the skin's lipid balance

Phytosqualane: nourishes, moisturizes and strengthens the skin's protective film

Natural Tocopherols: help to combat free radicals

Unsaponifiables of avocado: regenerate, repair, nourish, soothe

Padina pavonica: stimulates synthesis of glycosaminoglycans

Black Rose extract: moisturizes and softens

Bulgarian Rose essential oil: tones

Magnolia essential oil: soothes

Geranium essential oil: purifies
Sounds pretty amazing to me – and not just sounds, it's truly an amazing, luxurious product! I personally use 2-3 drops for the entire face and neck, finishing up with eye cream and a lip balm as a nightly routine on those days when I take a break from Retin-A.  I know people with drier skin and who are not as sensitive to oils as mine layer it with the night time moisturizer on top as an additional nourishing booster and in the day time include it in their skin care routine as well. The bottle comes in 0.84 oz size but it does last since you only need just a few tiny drops to cover your entire desired area.
As for the travel, from my own experience I don't trust anything with the pipette droppers. They tend to leak when vigorously moved around, so in order not to waste any of this precious oil, I just put the desired amount in my own little container which also helps to prevent extra charges for the overweight luggage, saving you funds so you can try out more products from Sisley.  It's a win-win situation!
Have you tried any of the Sisley skin care products? What are your favorites?