As a teen, I was pretty lucky that I never had any major issues with my skin. But, my luck didn't last forever, and in my 20's everything started to change and my skin became one of my main concerns. Something that I had taken for granted and had cared for minimally for so long became a battle of several years. Although I can't say I've completely won it, I am currently at least able to keep my break outs somewhat under control.
Part of that is approaching my skin care and make up products very cautiously and staying loyal to those that do work.
Today I will cover the foundation choices that I currently have in my rotation. Shopping for a new foundation is a pretty sensitive matter for me not just because of the hassle of finding the right shade, but also the thought of what it might do to my skin.
If there is one make up product that you can really splurge on and not feel guilty about, it is your foundation. Because it is something that sits on your skin the whole day, if your skin looks off due to the foundation, nobody will care about or pay attention to the "it" color of the $50 lipstick you just splurged on.  If you happen to be one of those lucky ones who can brave the streets barefaced or is blessed with a gorgeous blemish free complexion, you can probably skip the rest 🙂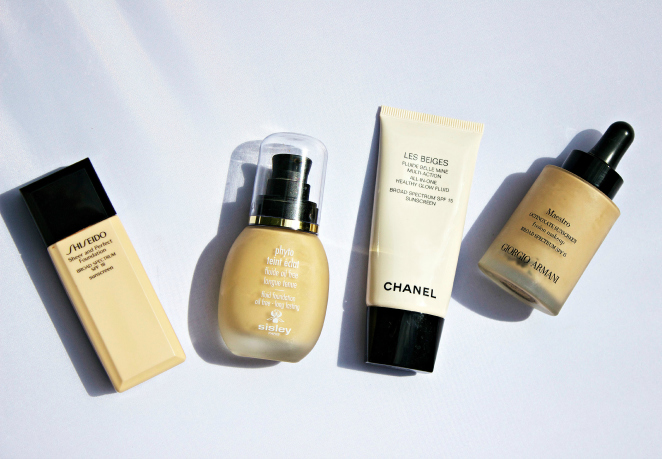 From Left to Right:
1. Shiseido Sheer and Perfect Foundation spf 18.
It's oil-free and is supposed to be long-lasting per Shiseido's product description. I personally would describe it as a bb cream or a tinted moisturizer rather than a full foundation.  It has a very light consistency and is pretty sheer but manages to cover and blur imperfections pretty well at the same time. It feels light and nice on the skin and gives a nice glow with the benefit of SPF 18 protection. The only things I don't like about this product are the smell (sort of plastic-y and artificial) and that it doesn't last whole day. I would also use it mainly on your "better skin days".

2. Sisley Paris 'Phyto-Teint Éclat' Fluid Foundation.
This product is my all time favorite. It's oil-free, provides amazing coverage and is extremely long-lasting. It also illuminates your skin and really enhances it once applied and photographs wonderfully. I love the lightweight feel and scent is not bothersome.  Most importantly, it does not trigger any skin reactions. The downsides to the Sisley foundation are the price and the lack of SPF protection in it. Also take note that it can cause your skin to look slightly dry and the long-wear characteristics might be a bit overwhelming on the days when you have been through certain types of treatment such as a Retin-A application or peel treatments. Overall, it mixes well with other more sheer foundations for even extra coverage when needed. It is currently number one on my list, and in general, you can never go wrong with Sisley Paris products – so good for your skin!
3. Chanel Les Beiges All-in-One Healthy Glow Fluid Broad Spectrum SPF15.
This is a really nice product. Since it is a all-in-one product,you can skip the moisturizing and sunscreen steps. I still lightly pad my face with the moisturizer since my skin tends to get extremely dry. This foundation has a nice creamy texture and the fluid illuminates your face right away once applied. It feels nice on the skin and looks really glowy and natural. From a skin sensitivity standpoint I have not had any issues with breakouts. The product uses hyaluronic acid so your skin will feel really nice and soft after you remove it at the end of the day and it has a nice signature Chanel skin care scent to it as well. I also love the tube packaging of the fluid since it allows for very good control of how much of product to use and also doesn't spill while traveling. The best use would be more suitable for daytime since it is relatively sheer and might not work so well on those less fortunate skin days. Also, this product does tend to oxidize. These all-in-one products are great, but for my skin, I just don't get the full benefit of skipping the initial skin care prep steps.
4.Giorgio Armani 'Maestro' Fusion Foundation Broad Spectrum SPF 15.
This foundation used to be at the top of my list before I tried the Sisley Paris 'Phyto-Teint Éclat' Fluid Foundation. I went through several bottles of this product. It does everything it claims: it does give you a flawless complexion, and it is very pigmented and looks almost traceless on the skin. This product provides the most natural skin look I have been able to get with a foundation. It's very long lasting, very light and has an spf15, which is always a plus. My major problem with this foundation is the packaging. It's not the pipette itself, which a lot of people find frustrating. Instead, the main issue I have is the top of the bottle where the pipette attaches to the cap. It just leaks and spills when you travel no matter how well you try to secure it. Not only has that caused me to lose hundreds of dollars in product, each time it happened it created a huge mess in my toiletry bag – not cool! Still, I love the product so much that I am overlooking that point of frustration and will be repurchasing it as long as it is available. Just please, please Armani, fix the packaging!