So today I wanted to cover one of the most commonly asked questions I've been getting in my emails from you guys – "What lipstick brand and color are you wearing?"
You probably noticed by now that I absolutely love bright statement red lips. Nothing gives you that immediate feeling of being put together and alluring as a good statement lip color – it's like an instant makeover. I know it can seem like quite a bit of work to master the application and durability of red lips but we won't go there. I'll just say that lip pencil and a light blot goes a long way. And no, I'm not afraid to wear red lips in the day time. It's all about feeling great and confident and the rest is history!
As for finishes, to be honest, I prefer a matte finish. It is just easier to keep it in place and I feel like a bright lip gloss on top of a lipstick or by itself can get quite messy as it tries to escape from your lips in all different directions, plus you have to keep your fingers crossed that there won't be any wind in the forecast.
Here is a list of my current favorites. Some of these are limited edition or discontinued colors, but they can be easily replicated to create the same finish and look.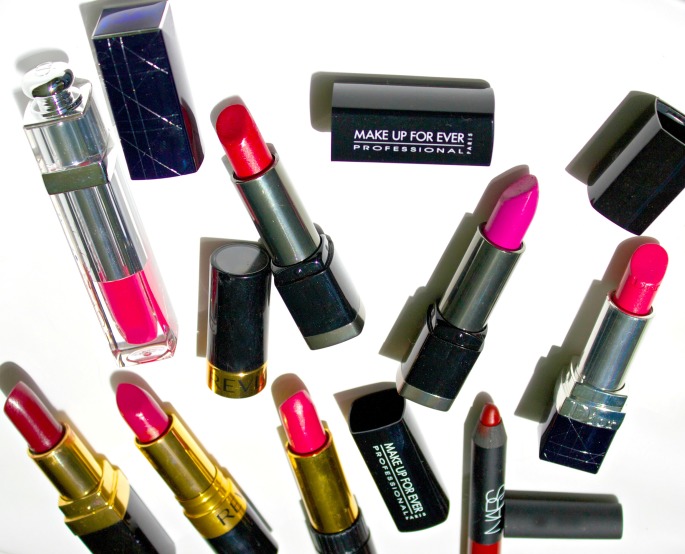 Top row (left to right):
1. Dior Addict Fluid Stick in 575 Wonderland – this is a perfect fusion between a lipstick and a gloss due to a high pigmentation and a very rich, glassy wet finish. That's what you've seen me wearing a lot of lately in my recent posts. The texture of the lipstick does take time to get used to and application takes some work but if you want the ideal combination of highly vibrant color and gloss, it is totally worth it. You will be rewarded with a stunning color payoff and a full plump finish.
2. Make Up Forever Rouge Artist Intense in 42. This range of lipsticks is extremely pigmented and very long lasting. The only down side is that they can begin to dry out after 6-8 hours of wear.
3. Make Up Forever Rouge Artist Intense in 36. This lipstick is more of a magenta color but still very vibrant and long-lasting.

4. Dior Rouge Lipstick in shade 028. This shade may have limited availability (if not discontinued), but it's a really lovely warm coral-toned red that is perfect for the warmer seasons.
Bottom Row (left to right):
1. Chanel Rouge Hydrabase in 124 Lotus Rouge. Another limited edition / discontinued red that I cherish as it is such an easy to wear, cool toned ruby red that can be applied both lightly or darker depending on your mood and desire. The texture feels very nice on the lips and it stays all day. The closest shade that is currently available in a new line of Chanel's Rouge Coco Hydrating Creme Lip Color –  is Rivoli 21.
2. Revlon Creme in 440 Cherries in the Snow. Revlon actually makes some beautiful reds with a decent staying power, beautiful color payoff and finishes. I always recommend to start playing around with these lipsticks if you are not sure if a certain color will work for you, if you are just not sure how often you will be wearing that bold color or even if you are trying to pick up a lipstick to match one specific outfit. The Revlon line of lipsticks is a great choice since they have a wide range of shades and finishes and won't break the bank.
3. Revlon Creme in 435 Love That Pink.
4. Nars Cruella Velvet Matte Lip Pencil – has a fantastic pigmentation and staying power, but it does tend to bleed on me a little and can get a little dry when worn for several hours so prep your lips ahead.