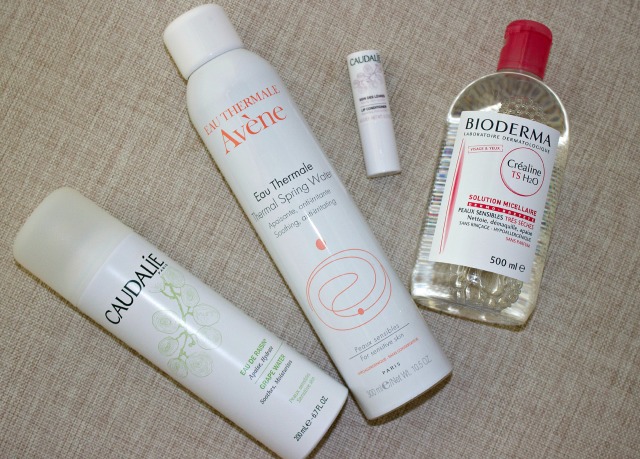 As many of you know, European pharmacies carry some of the most loved essentials that in the U.S. can only be found in specialty stores like Sephora or through online retailers like Amazon. That's a great reason for restocking on some of my personal favorites every time i travel to Europe!
This time, I limited myself to only four items (but in multiple quantities of course!) – lip conditioner and grape water facial mist, both from Caudalie, Bioderma Crealine H2O Solution Micellare and Avene Thermal Water Spray.
Facial mists are a versatile, go-to product for me since I use Retin-A which has a tendency to dry out my typically combination skin. First off, facial mist provides a great base on which you can set your make-up. But secondly, if you're on a plane for several hours or experiencing weather extremes, it's also a great way to freshen up and hydrate the skin.
I hadn't tried the Caudalie Grape Water Mist before, but was recommended to try it as an alternate to Caudalie's Beauty Elixir. The Elixir turned out to be a little too oily for me due to the formulation, which has a high concentration of essential oils in it. A lot of people swear by the Beauty Elixir, but it was just too much for my skin. By comparison, the Caudalie Grape Water Mist is light and feels great, and most importantly, didn't cause any irritation or break outs. It definitely gets my thumbs up.
As for the lip conditioner, i picked up the Caudalie Lip Conditioner as I had forgotten my lip treatment at home. The Caudalie Lip Conditioner feels nice and moisturizes enough with a pleasant, but not overpowering scent. Even though I really like the product and would definitely buy it again, if your lips are feeling particularly dry, I would recommend something that rehydrates better. The Sugar Advanced Therapy Lip Treatment from Fresh really fits the bill here due to blend of Sea Fennel extract, Cupuacu Butter, Plum Seed Oil, and Passionflower Seed Oil which along with Hyaluronic acid, helps to plump the lips .
The last two items I purchased on this most recent trip were the Bioderma Crealine H2O Solution Micellare and the Facial Thermal Water Spray by Avene.
The Bioderma solution can be used as a toner to soothe the skin and restore its pH balance or simply as a make-up remover. Because it's alcohol and soap-free it's very delicate and gentle on even the most sensitive skin. The Facial Thermal Water Spray by Avene is a great facial spray that cools and soothes the skin without irritation and also provides a great base for setting your make up.
Since the airlines insist on having a weight-limit on bags and because I was pretty well stocked from a previous trip, I did skip two purchases which are typically on my list. Klorane hair care items with Camomile are one of my favorite product lines. This range of shampoos, conditioners and styling products is very gentle on blonde, color-treated hair and it also smells wonderful! Another item that I typically purchase is the multi-purpose dry oil Huile Prodigieuse from NUXE. This one has been a staple for me for quite some time. The oil has a beautiful scent and the ability to keep my skin nourished and glowing.
So on your next trip to Europe, plan to take advantage of the great selection and attractive pricing that many of the local pharmacy chains have to offer on high-quality beauty products. If you're bringing it back to the U.S., just make sure to have extra room in your checked luggage!
Do you have any favorite beauty products that you like to purchase from the pharmacy while abroad? What are some beauty items that are available only in certain countries that you can't live without?