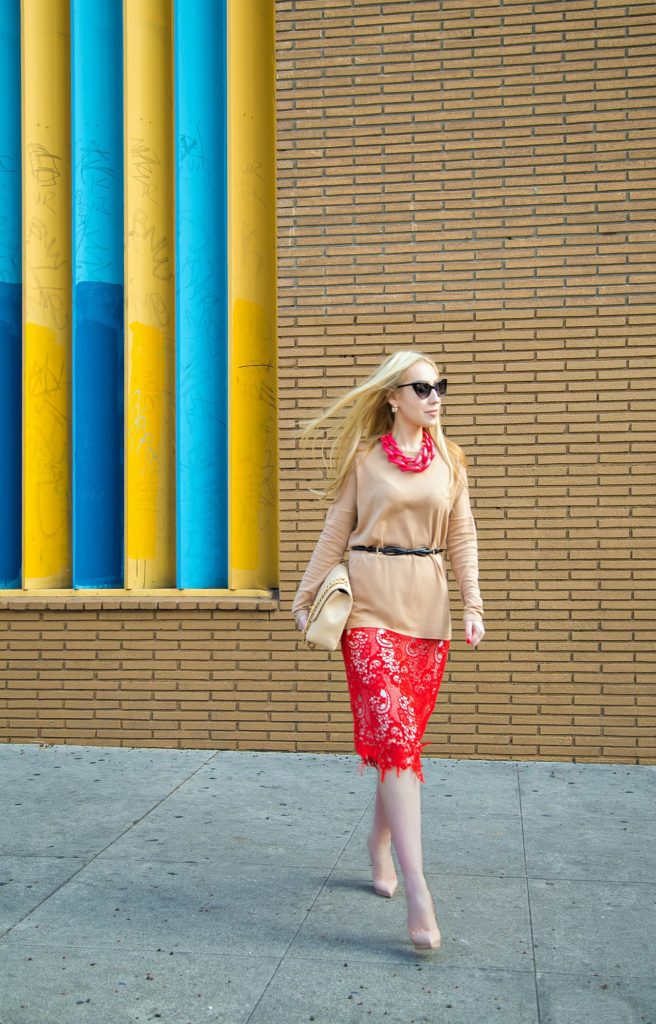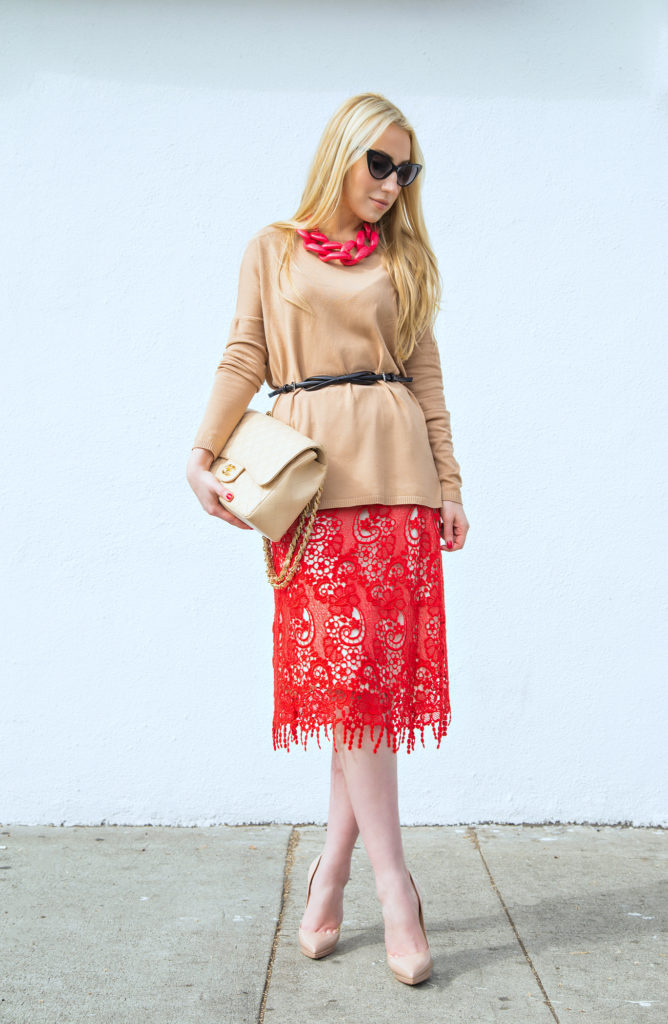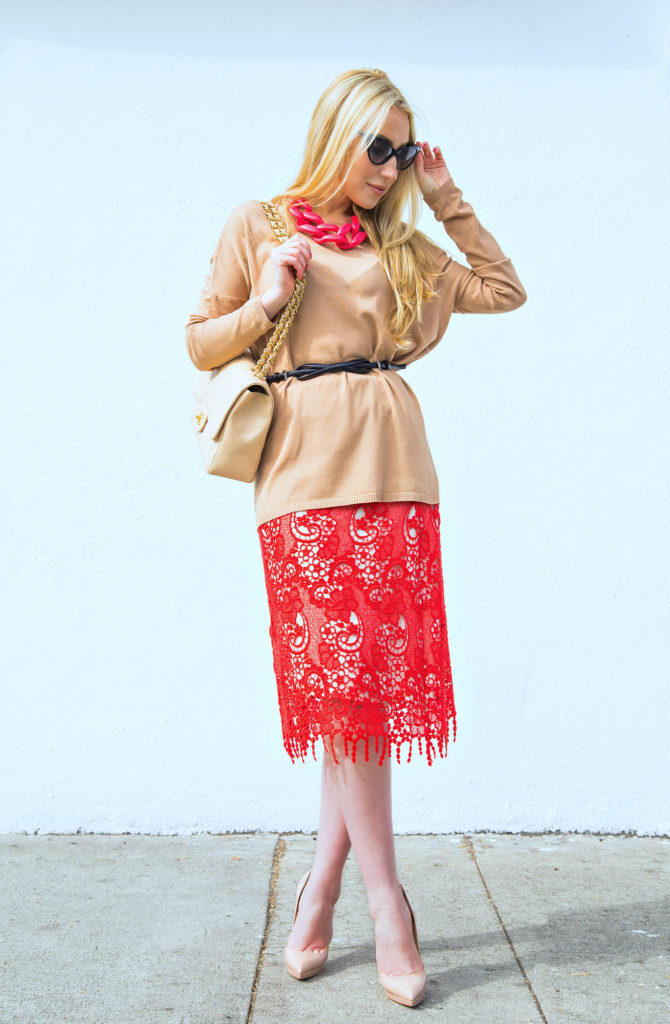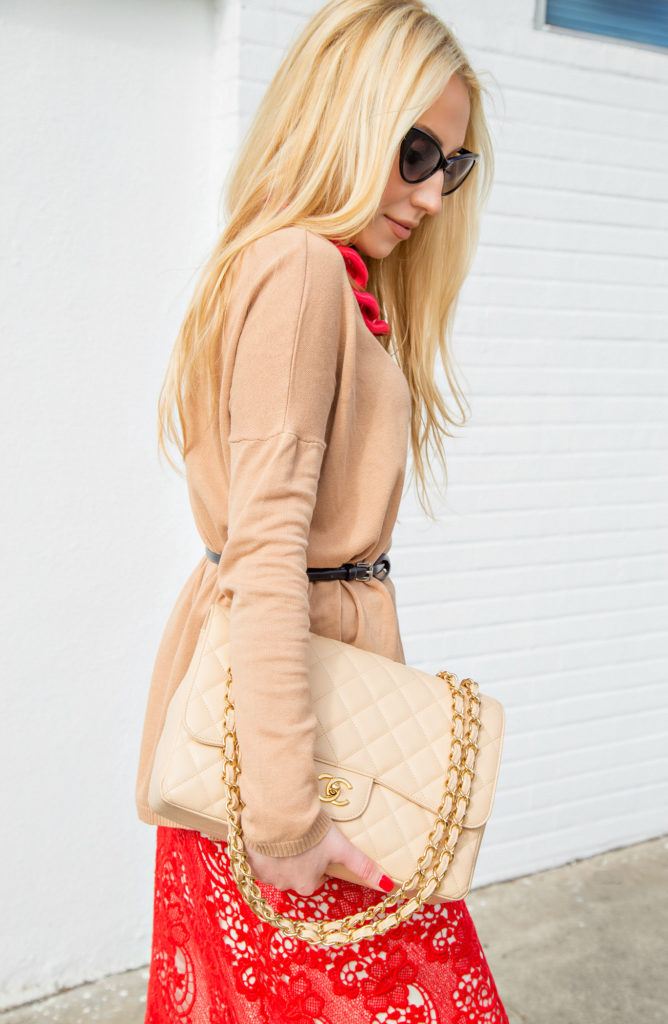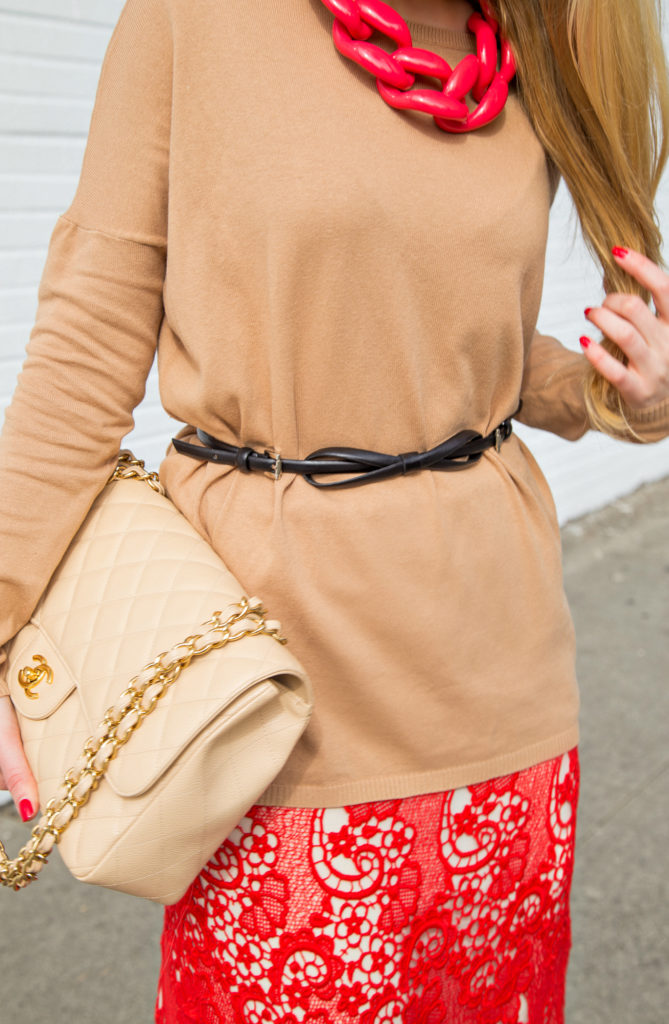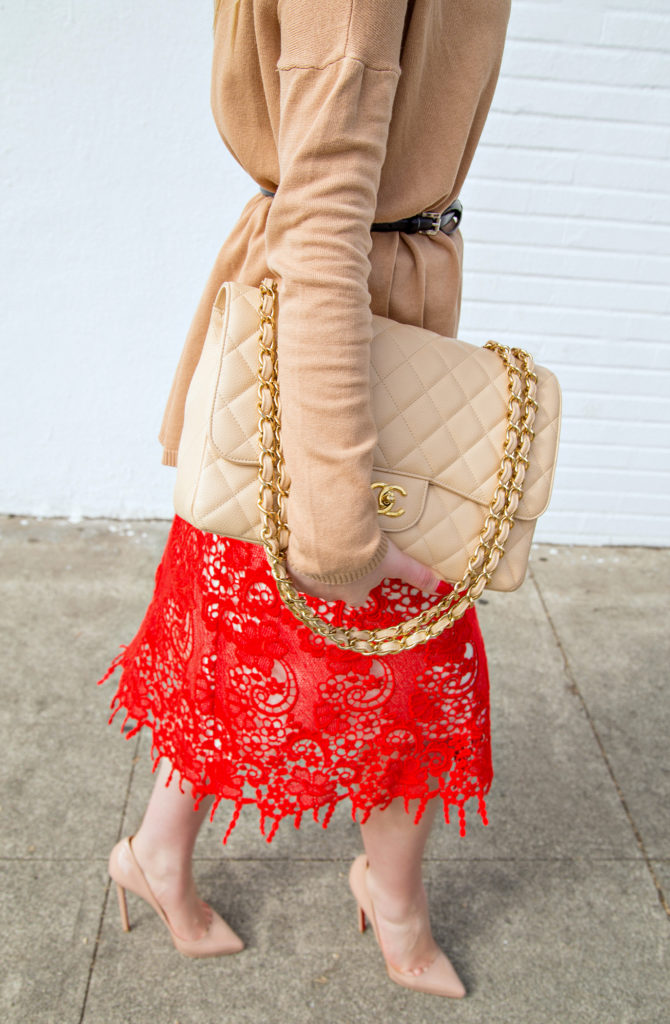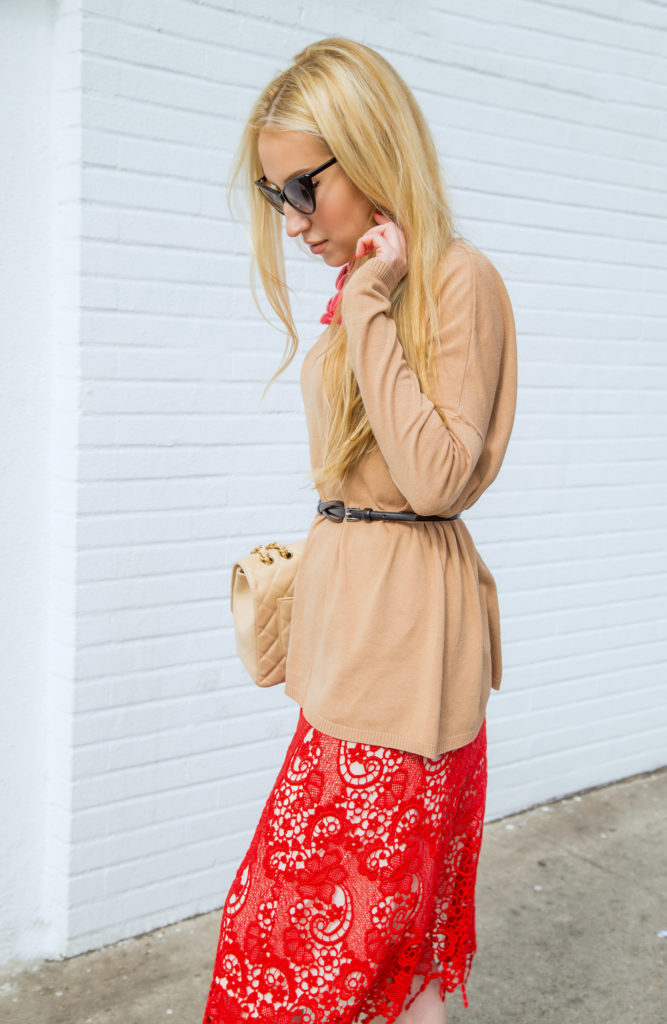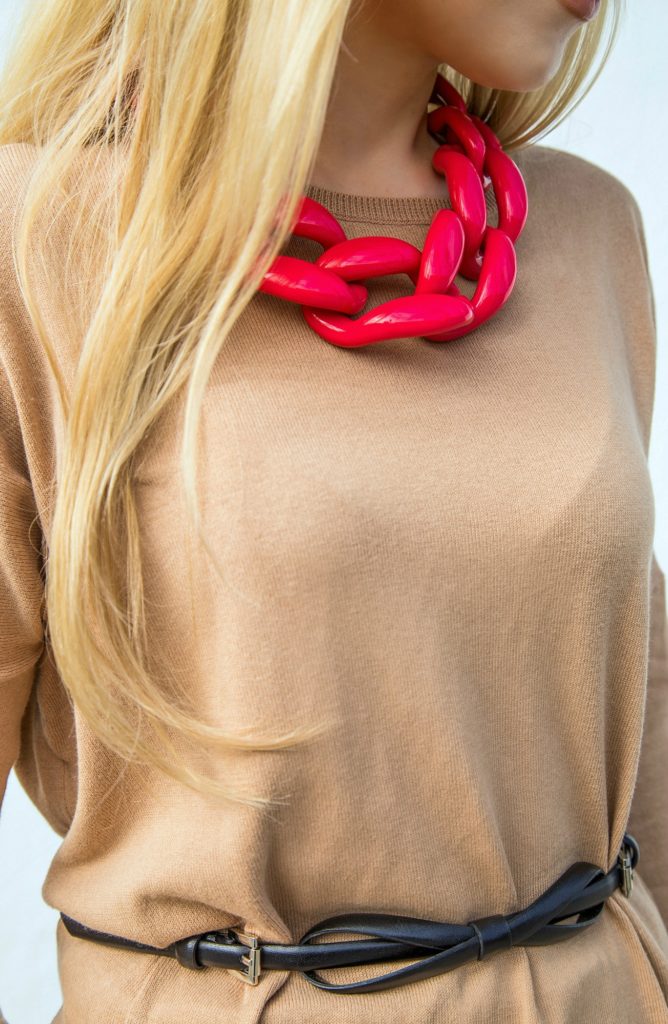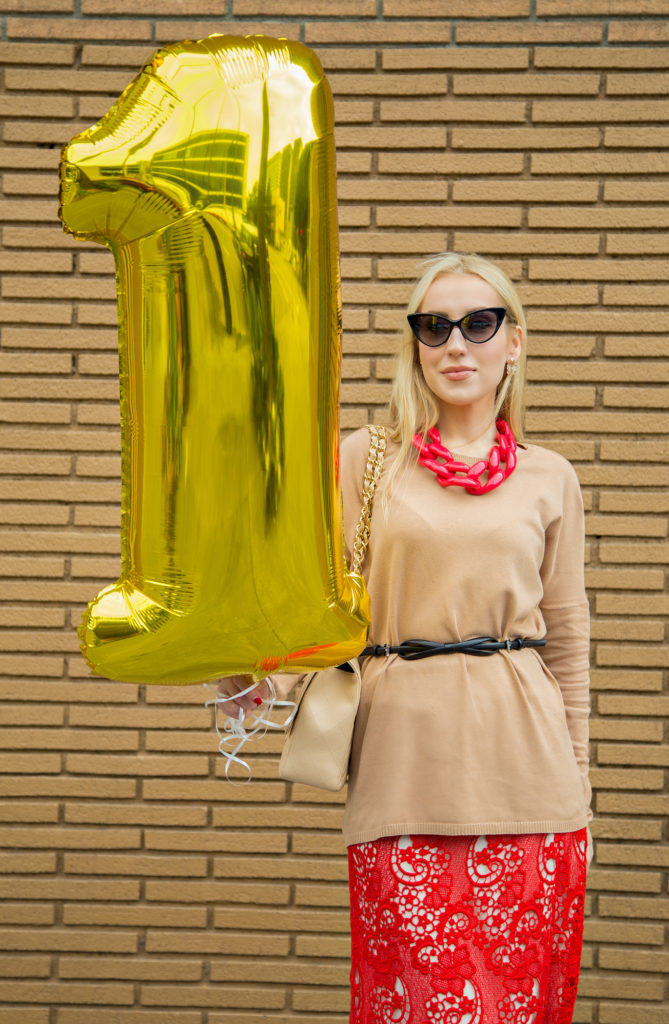 Sweater: Zara (similar) 1 | 2 | 3
Skirt: MSGM strapless dress worn as a skirt (similar) 1 | 2 | 3
Pumps: Christian Louboutin 1 | 2 | 3 | 4
Bag: Chanel (similar) 1 | 2 | 3 | 4
Belt: Sandro Paris (similar) 1 | 2
Sunglasses: Tom Ford 1 | 2
Earrings: Christian Dior
Necklace: Diana Broussard
Lips: Tom Ford and Clarins
I created this whole look around an MSGM strapless red lace dress that I chose to wear as a skirt, keeping the rest of the items neutral and only spicing them up with a chunky necklace by Diana Broussard.  These Tom Ford sunglasses also add that perfect retro touch whenever I am longing for it.
The main thing I wanted to say was that I would like to give a huge thank you to each and every one of you who visits Laviedupapillon.com. We turned one this month!  Among all of the recent busyness, I wanted to find the time and celebrate this little anniversary.  Your love and support mean the world to me! I am always so ecstatic whenever I receive your emails, be it the feedback or the random blog-related inquiry.  I always try to take notes and learn what my readers find engaging and interesting, so please do share your thoughts on future topics and content you would be interested in seeing on LA Vie du Papillon moving forward.

This year was a true blessing: always having fun times working with my partner in crime Janice, meeting some incredible people and working with some amazing and talented photographers, collaborating on some great projects, traveling to some incredible places and attending NYFW as a perfect start of the new year!

Thank you and keep your eyes open on the upcoming giveaway I will be hosting soon to celebrate LA Vie du Papillon turning 1!
Cheers! 
Photography by Janice Reinold of Chasing Hiromi Photography