My last couple of beauty related posts got positive feedback and I received some nice emails inquiring for more beauty shares and recommendations.  Again, I am not a beauty expert, but I do have an appreciation for beauty, makeup and skincare products that work.

Since you guys have been enjoying these posts, from now on I am going to be reserving Sundays for my latest beauty-related ramblings – what I currently use, what I'm loving and maybe not loving quite as much.
Today I will share my current "glow" products and also "little helpers" that can help you create the perfect face canvas.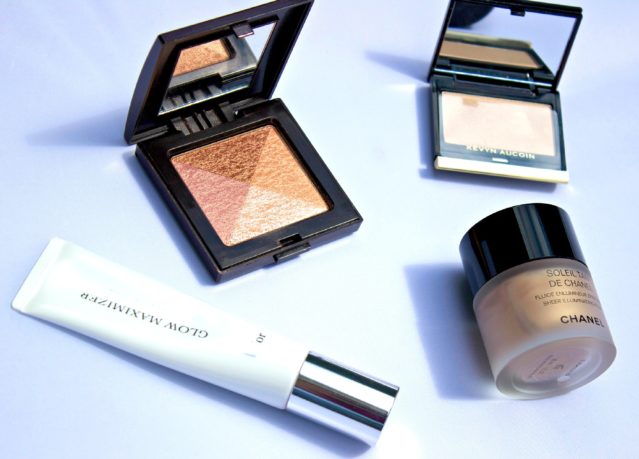 From Left to Right: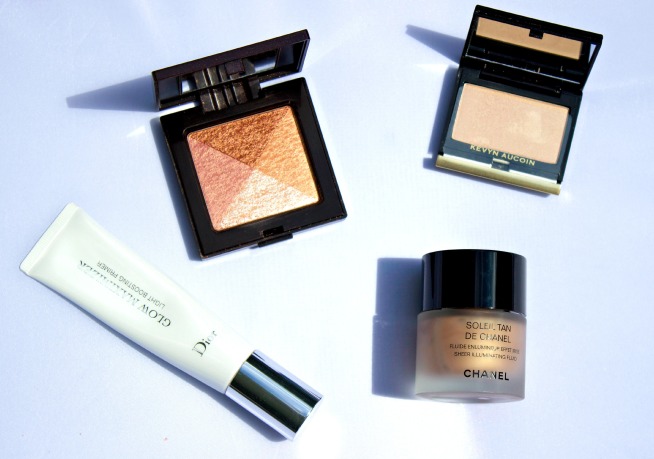 From Left to Right:
1. As for powder, I currently use LA Mer The Powder.  It is on the pricey side, but you get a good amount of the product that should last you a very long time.  It is a very silky, translucent powder that seems to melt right into your skin without clogging your pores while sealing your makeup in place. In addition to this one, one of my other favorites is the Shiseido Translucent Loose Powder, which has a very beautiful, silky texture and gives a nice satin finish without making your face looking cakey or powdery. 
2. Guerlain Terracotta Mineral Flawless Bronzing Powder is a nice all over the face bronzer that doesn't make you look orange or muddy and is very lightweight.  I have had this one in my makeup kit for a while so inventory may be limited or no longer available.  In general though, Guerlain Terracotta products are one of the best in creating the perfect bronzed look year round. 
3. Clé de Peau Beauté Concealer – The Holy Grail of concealers!  This does everything the best concealers are supposed to do.  It's creamy but lightweight, it perfectly covers and hides dark circles under the eyes and redness around the nose and overall is excellent at covering spots and imperfections while also moisturizing patches of dry skin as well. This one is absolutely worth its price tag.  I have gone through several tubes and will continue to purchase. One tube does last me a good 6 months or so.
4. Guerlain Terracotta 4 Seasons Tailor-Made Bronzing Powder – is another product I have been using for years.  It's still one of the best bronzers on the market.  The bronzer has four different shades in a compact, so it's easy to go lighter or deeper with a color depending on your current skin tone or adjusting to the fall / winter seasons. It's a matte finish and gives you a truly tan and bronzy pay off without looking orange, muddy or shimmery. Although it's highly pigmented, it blends beautifully with a very long wear for good 6+ hours.
What are your tricks and favorite products in creating and keeping up the beautiful healthy summer glow?